Hey, AWA fans! This is a heads-up that we're changing the name of the show! Beginning in mid-July, the show will be re-titled Big Picture Science. The content won't change (although we hope to improve!) and the humor will remain (audible sighs of relief). The name better reflects the scope of the science.
Before you protest. Consider this: if you ran an art gallery of 20th-century modernism how would calling it The Salvador Dali Studio capture the energy of Pollock's splatter paintings, the saturated color of Barnett Newman, never mind the radical minimalism of Kazimir Malevich during his white-on-white phase?
Or, if your car dealership sold everything from Porsches to Pintos, would you print fliers and risk life and limb to drop them from small airplanes so that people could "Stop by Cadillac Kingdom for a real deal?"
Or if your restaurant menu ran from boiled squid to baklava, would customers flock to Casa De Tortilla? (Although, if you featured everything "from crepes to papadum" you'd be okay – ha ha, that's because they're both essentially tortillas).
Anyway, Are We Alone to become Big Picture Science. You get the picture. The Big Picture.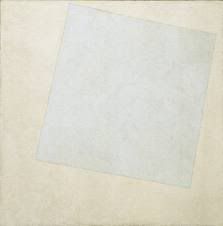 Radical in its time