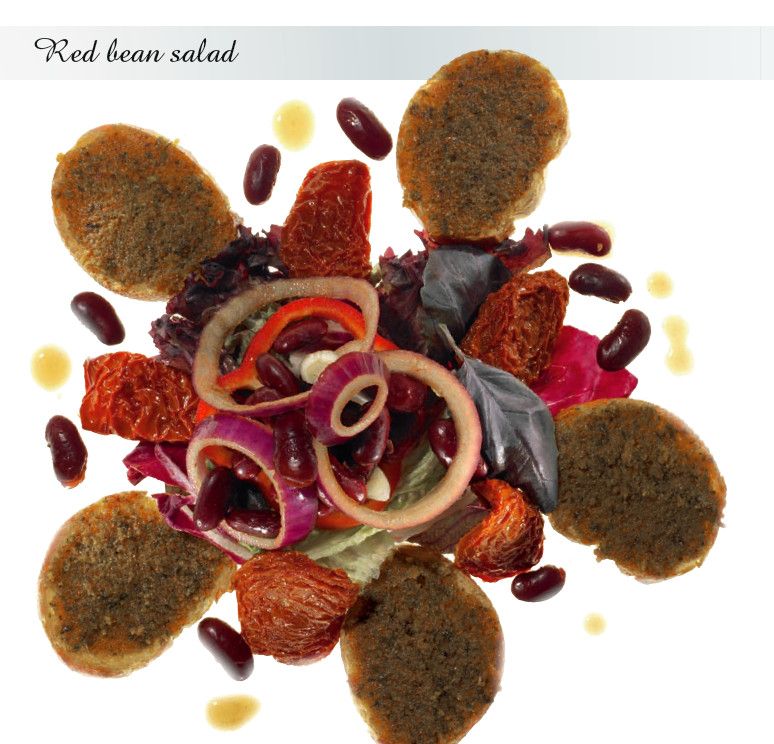 Behold the red bean salad from Our Tasteless Show. Well, not the red bean salad from our show, as that one was gone by the end credits. No, the one pictured here is actually the one from Finnish science fiction author and journalist Markus Hotakainen's gAstronomical Cookbook, in which food pays tribute to celestial bodies, in this case Mars. Markus and a slew of co-authors devised recipes for dishes based on the properties of various celestial phenomena which delight the eyes as well as the taste buds. Check out this watermelon sorbet with lingonberry fudge sauce that's [I cringe while I type these four words, but you saw them coming, didn't you?] out of this world!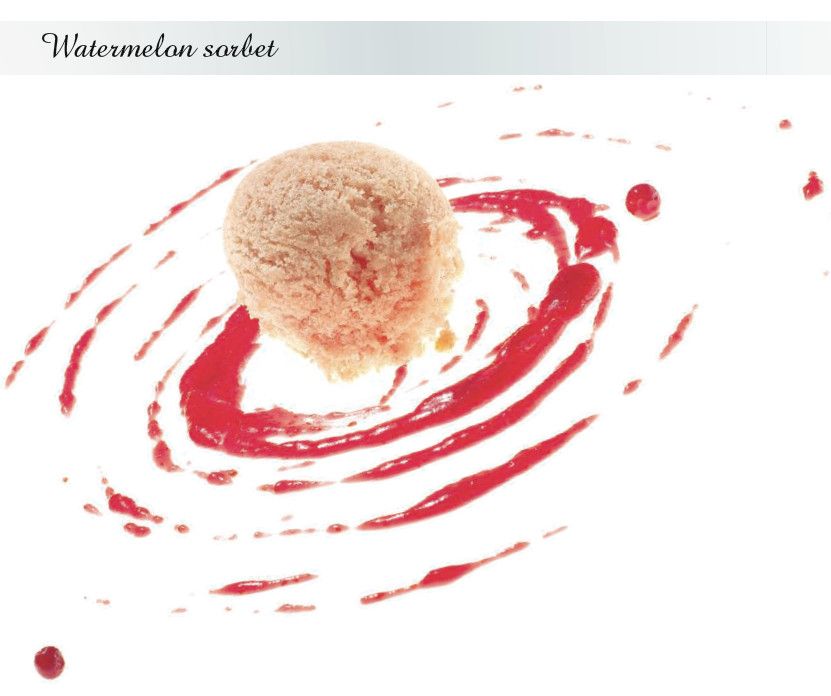 Now, we may not have a phalanx of Fin foodies to feed us, but we do have Barbara. Our production assistant Barbara Vance, without whom you literally would not hear the show, doubles as a pastry chef. Well, actually, she doubles as the SETI Institute's grants administrator, and triples as a feline fancier, but she quadruples as a supplier of sugary snacks. In Our Tasteless Show, Seth talks with his mouth full, to the admirable disregard of his guest, thanks to one of Barbara's lemon cookies. In fact, he liked them so much, he took a picture of them, and Barbara provided the recipe. Enjoy!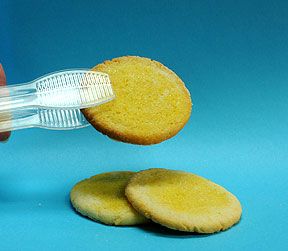 Glazed Lemon Rounds
2 1/4 tsp. baking powder 3 1/2 c. flour 1/2 tsp. salt 1 c. butter 1 1/3 c. sugar 2 eggs 2 tbsp. lemon zest 1 tbsp. lemon juice sugar 6 tbsp. confectioners' sugar 4 tsp. water yellow food color
Preheat oven to 400°. Sift baking powder, flour, and salt together; set aside. Cream butter and sugar in a large bowl until light and fluffy. Beat in eggs, one at a time, then zest and juice. Stir in the flour mixture, 1/3 at a time. Blend well to make a stiff dough. Roll teaspoonfuls of dough into balls. Place 2″ apart on ungreased baking sheets. Butter the bottom of a glass; dip it in sugar. Press on the balls to flatten them to 1/8″. Mix the confectioners' sugar with water; add a drop or two of food color. Brush over rounds. Bake 8 minutes until firm and golden around the edges. Cool on racks.
Yield: 5 1/2 dozen